Collaborative Text Editing is now the new standard
And now a few months after Dropbox Paper has been released, Apple has introduced in the new iWork for iCloud.  This means than most companies concerned by text editing are now offering real time concurrent/simultaneous editing as a standard feature. Let's have a look at real time collaboration big moment at the key note EDIT: apparently Apple don't want you to see that on youtube. India on the rescue it is, whith a very well done video on how it works :
Google Doc started the game (to be accurate Writely started it and was quickly bought by Google), quickly followed by open source things such as Etherpad. This pushed Microsoft to implement real time collaborative edition in the webapp version of Office 365, as well as a much less practical manual sync in the desktop versions. This one is clearly not thought to stay. Last year Microsoft managed to get the real time collaboration in the king of test editing too: Word desktop version (although other versions, just like Apple's iWork announced desktop version are announced without any release date). Those days we barely see a week without seeing something with that kind of remote collaboration capability appearing on google alert.
Dropbox Paper. It's not made out of paper. 
There's a catch though - nearly all of those solutions are web based. The reason for this is the emergence of  javascript libraries handling the approach to advanced collaborative features brought by Operational Transformation ( ). You have of course Google Real Time API, but for people not willing to be tied to Google Drive, ShareJs by Joseph Gentle has been a popular solution. There are now many others, such as Together.js by Mozilla labs, Coweb-jsoe ( ), OT.js ( ), etc. That's the likely explanation for that burst of Real Time Collaborative text editors in your browsers. Now about that catch. What is the limit using those frameworks ?
That is not the limit. The limit is lower.
The first one is tied to Operational Transformation and is detailed in our comparison between all approaches for concurrent editing. Operational Transformation is well suited for text but becomes really difficult to handle if you have a need for operations that have not yet been designed. That's the kind of ceiling you can hit pretty fast if you have an app with intensive UI that needs features such as undo/redo, transactions, or concept like "containers" in the data structure model.
The second one is the fact that all of those frameworks/libraries are made in javascript. Nothing for C++, C#, Swift etc. That's probably why Microsoft took a long 6 years to get it to work properly in the desktop version of Word, while it's still not there for Excel or Powerpoint and why Apple took even longer and can't even commit to a release date yet.
Bottom line: getting real time collaboration for all kind of app - not only text editors -will be a longer effort for the industry. This is typically the case for the most advanced professional tools from publishers like Dassault Système, Adobe, Autodesk, etc but can also be relevant to SME with innovative new products. Big or small, they have no Operational Transform framework to use in the language they need, and if they had any they probably could not use it anyway, because OT becomes a dangerous path pretty quickly in your development when you start to make advanced features.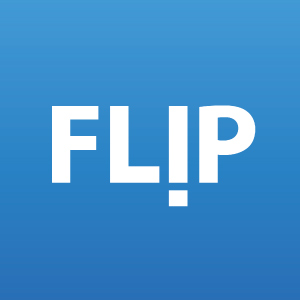 We're still unsure about that flip flopped "i". 
They could use Flip, though, and we're trying to spread the word. Flip is a data model library that we designed as a framework with a rock solid reliability record. It changes drastically the perspective about what can be done and how fast for many app. You can learn more about it here.
And who knows, if you're not there yet, maybe you will be soon ?Everyone uses text editors, so once everyone will be used to the benefits or collaborative real time editing, they're likely to wonder "wait, why don't I have that in my other tools ?". We'll be there 🙂